Don't just take our word for what's happening in our local market and the rest of Western Australia. Herron Todd White has just released their month in review for December and we can finally see Broome and Perth at the bottom of the market and heading into recovery. Strong signals that now is a great time to buy!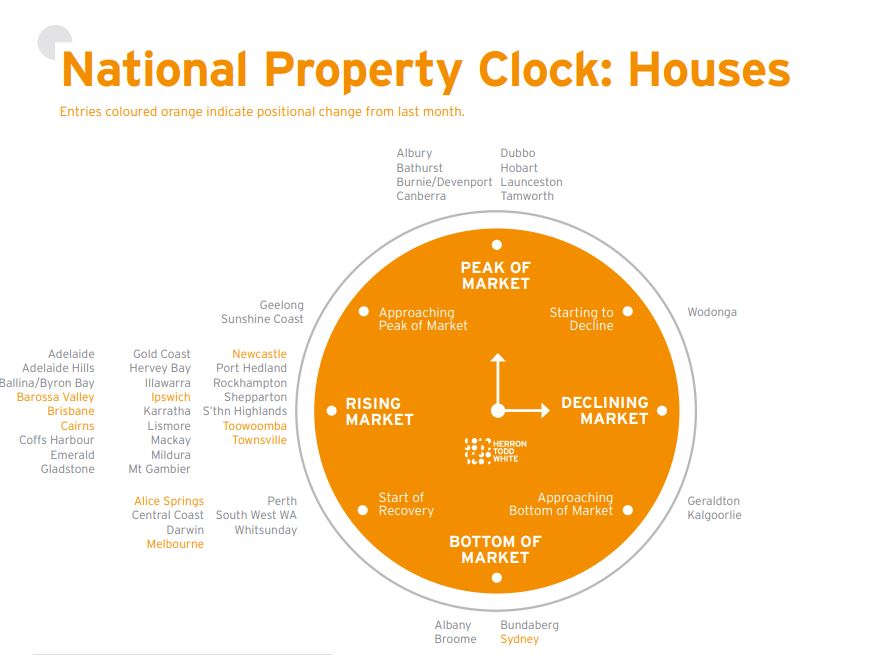 What did they have to say about WA?
The Western Australian property market has navigated through the turmoil of Coronavirus and shot out the other side with more confidence than ever. The most notable points for discussion are now record low rental vacancy rates, a booming residential construction sector and an extremely active established property market.
Many factors are contributing to the current state of the Western Australian property market, but the bulk of the heavy lifting has been through returning ex-pats and surging consumer sentiment. This increased confidence was started by the state and federal governments. Stimulus packages such as the HomeBuilder and Building Bonus schemes combined with the First Home Owner Grant meant that qualifying buyers in Western Australia could secure up to $69,440 in government assistance to build a new dwelling. Whilst this was underway, the state government was seemingly relaxing its restrictions which gave an unexpectedly strong level of confidence in the residential real estate market. Vacant land stock has diminished – even the awful, irregular, awkward allotments in second and third tier locations that were experiencing lengthy marketing campaigns have largely now sold. This seems to have set a sentiment in Western Australia's collective mind that you will miss out if you don't act right now, with land sales increasing an astonishing 71.56 per cent from December 2019 to June 2020, resulting in an increase in median land values from $240,000 to $250,000 from December 2019 to September 2020 (with the true rise in values yet to be reflected in the reported statistics).
This has followed through to the established property market as well, where demand has surged. Western Australia's resource sector has continued its incline, as mineral investment remains strong with a number of projects still in the pipeline over the coming years. Western Australians returning from overseas have been cramped into space in the homes of friends and family whilst looking for alternative housing options. Unfortunately, this has now led to a severe rental shortage. Damian Collins (REIWA President) has stated that the vacancy rate was on track to reach a miserly 0.8 per cent. Whilst this may be good for investors and will also apply upward pressure to house prices, REIWA estimates that Perth will run out of rental stock by early 2021, with some property managers reporting 30 to 40 applications per property. We're seeing investors already returning to the market to take advantage of the rental returns on offer, but also the risk sentiment to residential real estate appears to have altered, with agents reporting that clients now see it as a relatively safe place to park money.
At the onset of the COVID-19 pandemic, we saw long queues outside government support offices reminiscent of the great depression, as well as a seven per cent fall in GDP. Here in Western Australia we feared the worst, however with swift action by the state government in terms of border controls and a relatively strong mining sector, the state managed a $1.2 billion surplus last financial year. Many experts and pundits feared a property crash, with economic factors leading to a large reduction in demand, however since the federal and state government building grants were introduced into Western Australia, the building industry has undergone a boom period with people looking to take advantage of these once in a life time stimulus packages.
Prior to the grants being announced, the residential building industry in Western Australia was at a 20 year low in activity which resulted in a number of constraints around labour and land development once the grants came into effect. There was a 170 per cent increase in dwelling construction contracts over the first two months after the incentives were announced which reflects the immense demand for these products. Originally in order to claim the state incentive, the site excavation works were required to start within six months of contracts being signed to be eligible. This caused a rush for purchasers and builders to meet the deadlines in order to claim the incentives. With the construction industry experiencing a shortage in labour, this caused builders to advise purchasers that they could not meet requirements, and many closed their books, however the state government has recently announced that homebuilders will now have up to one year to start construction work once contracts have been signed. This has once again allowed builders to take on new clients and ensure that construction deadlines are being met for the incentives to be claimed. We're also seeing builders assisting their clients to secure finance approval by stumping up funds for their clients to use, which are then secured by a deed to be paid back to the builder if their client qualifies for government incentives. This is a flow on effect of the way the grants work - they don't necessarily assist to get the deals done up front. Builders are also offering short term accommodation options for construction workers from other states to attract workers in order to maintain the huge demand for construction in the state.
There is no doubt that these incentives, coupled with record low interest rates, relative strong state economic conditions and returning expats have launched the Perth housing market into a state of recovery, and dare we say it, frenzy. Selling time has reduced to 33 days on the market, compared to 57 days in October 2019, with vendor discount rates reducing to 3.3 per cent from 4.7 per cent in October 2019. Additionally, CoreLogic's estimate of settled sales over the past three months is 13 per cent higher than a year ago - all very positive indicators. Out here in the west, we end 2020 with an optimistic attitude towards the future (something very few places around the world are likely to be feeling). As the saying goes, when you're at the bottom, the only way to go is up.
Our team are very excited about the future of Broome - if you would like an up to date opinion on the value of your home click here - or if you are looking to buy a property and take advantage of the market click here to register your interest.
Source Herron Todd White December in Review view original article here.