Seven of WA's nine regional centres recorded an increase in median weekly rent according to reiwa.com's December 2019 quarter data, with the largest increase of $128 to $620 per week recorded in Karratha.
The only two regional areas that didn't see an increase were Albany that remained at $350 per week and Geraldton which fell by $5 to $290 per week.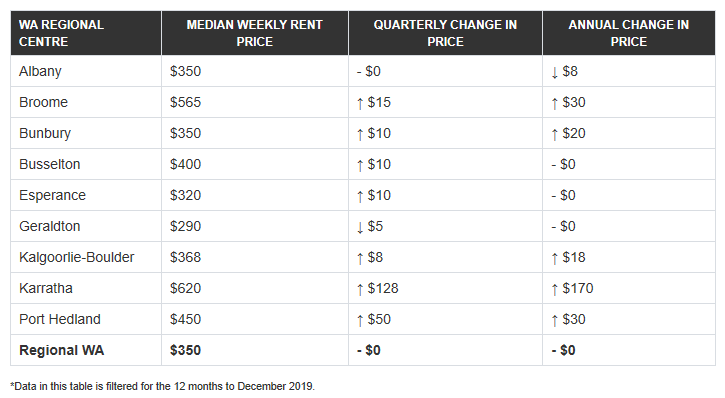 Median house price
reiwa.com analysis shows five regional centres had stable or increased medians during the quarter. "Karratha was the top performing regional centre with its median lifting 6.8 per cent to $390,000 and increasing 18 per cent on an annual basis." REIWA President Damian Collins said. "After a turbulent few years following the slowdown in the mining sector, Karratha is starting to reap the benefits of renewed investment in mining and gas projects in the Pilbara, which is having a positive impact on the property market."
Other regional centres to experience quarterly improvements in median price were Geraldton (up five per cent), Broome (up 1.4 per cent), Bunbury (up 0.9 per cent) and Albany (up 0.2 per cent).
Want to find out more on how a suburb in one of these regional areas is performing? Check out REIWA suburb profiles.
Sales activity
While there have been improvements in some aspects of the property market in these regional areas, there were only three that saw an increase in sales activity for the quarter. "Busselton saw the biggest increase of 13 per cent, which was closely followed by Kalgoorlie with a six per cent increase and Geraldton increasing by two percent," Mr Collins said.
"Despite this, most of the regional areas also had a decrease in sales listings over the quarter, which is the same trend we are seeing in the rental market and demonstrates current stock is being absorbed at a faster pace than new supply entering the market."
If you're considering buying in Broome get in touch with our team at First National Broome here.
Original article can be viewed here - source REIWA.