Sales activity has improved in the September 2019 quarter, with five of Western Australia's nine regional centres recording an increase of more than 19 per cent. REIWA Deputy President Lisa Joyce said the high levels of sale activity and interest from prospective buyers in these regional areas, should provide local sellers with some confidence.
Port Hedland and Broome
Port Hedland and Broome were two stand outs from the September quarter, with reiwa.com data showing improvements in both regional areas. "Port Hedland's median sale price increased the highest of all regional centres this quarter with a 2.8 per cent increase to $236,500, while sales rebounded 57 per cent following a particularly quiet June quarter," Ms Joyce said.
"Broome saw an increase of 41 per cent in sales activity and a 26 per cent reduction in sales listings which demonstrates properties are in demand despite the 2.2 per cent reduction in median sale price."
Karratha
"reiwa.com data found the Karratha regional area had the most notable improvements, with sales activity increasing 85 per cent and the median sale price increasing 1.3 per cent since the June 2019 quarter," Ms Joyce said.
"From a rental market perspective, properties are in high demand in the Karratha region, which is demonstrated by a 27 per cent reduction in leasing activity and an increase of $68 per week in median rent – the highest of all regional centres for the quarter.
"This can be attributed to an increase of jobs in the area, with existing companies expanding their workforce and new companies needing accommodation for their workers in the area. It is pleasing to see the Karratha region starting to strengthen and hopefully we will continue to see an upward trend."
Rest of regional WA
Albany, Bunbury, Busselton and Esperance were the only regional centres to record a decline in sales activity during the quarter.
"Although Albany and Bunbury's median price were down for the quarter, the average discount on original price and number of days to sell has improved which suggests sellers are listening to the advice from their agents by pricing their properties in-line with market expectations," Ms Joyce said.
"Of the improvements for the quarter in regional WA, it is clear that the mining regions have slightly picked back up. With the announcement of more mining jobs that will continue to rise, hopefully we will see an improvement to the property markets in these areas."
For breakdown of how each suburb within these regional areas visit our suburb profiles.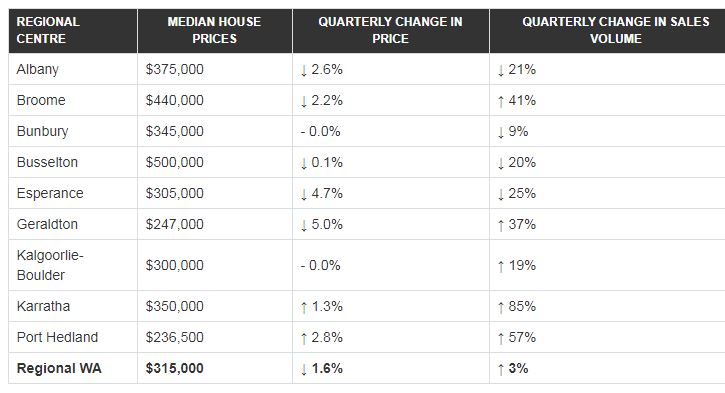 For an up to date opinion on the value of your property click here.
Article source REIWA