Broome Shire President, Ron Johnston, says Council's vision for the year ahead will feature a range of transformative projects including work getting underway on implementing the Town Beach Precinct Master Plan ($6.9M), Chinatown Revitalisation Project ($10.9M), BRAC 1 Youth Bike Precinct ($159K), and a range of road, footpath, drainage, car parking and lighting upgrades ($2.9M).
The budget will be funded by income from a range of sources including grants from State and Federal Governments, fees and charges, and Shire rates.
The general increase in rates over the previous year has been held to 1.75 per cent - the lowest rate rise in more than 10 years – with rates funding 58 per cent of the Shire's operations in 2017/18.
The modest rates rise was achieved through improvements in operating efficiency, savings in insurance, increased interest on deposits, leveraging additional government grants and repaying a number of loans in the previous year.
Changes to organisational staffing and structure have contributed to keeping salary and wage increases to just 0.37 per cent and saving more than $100,000.

Rates notices will be issued to property owners on 19 July with a due date for payment of 23 August 2017, and ratepayers offered the option of paying in full, or in two or four instalments.

Ratepayers also have the option of receiving rates correspondence via email and should contact [email protected] before 7 July.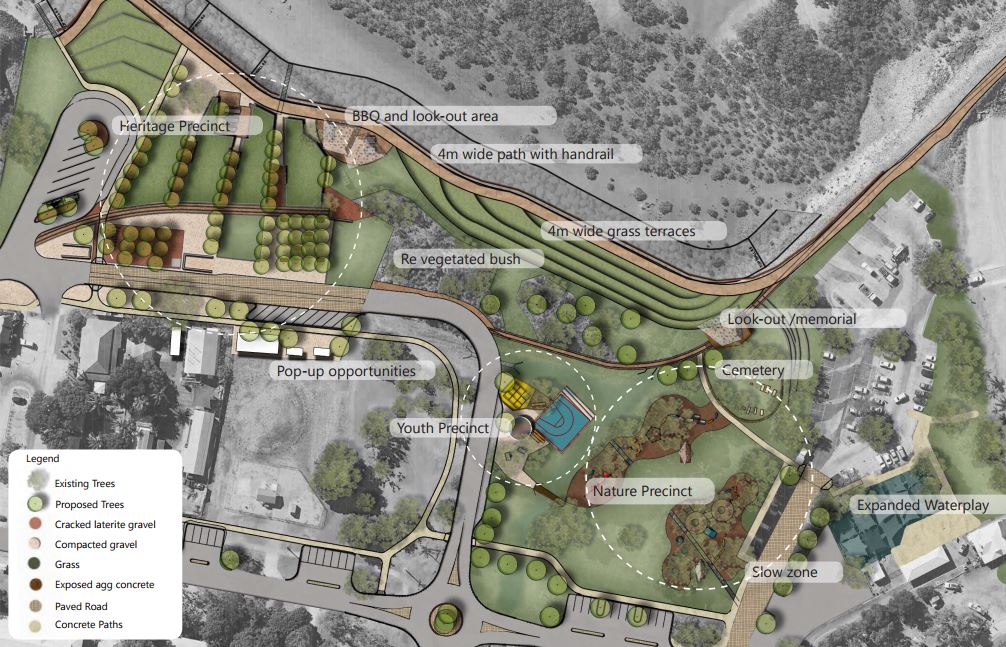 Major upgrades are coming to Broome's Town Beach with the Shire of Broome successful in securing grant funding from the State Government through Lotterywest.
Planned improvements include developing precincts for heritage, youth and nature play, terraced viewing for the Staircase to the Moon, a look out and memorial, and expanding the existing water park.
The Shire of Broome has allocated $3.4 million to the project and Lotterywest will provide a further $2.8 million, with work to get underway in the 2017/18 financial year.
The improvements are part of a Town Beach Precinct Master Plan drawn from the Old Broome Development Strategy that was produced following extensive consultation and input from the community.
The Master Plan covers the area stretching from Town Beach Café through to Catalinas and was developed with Yawuru Traditional Owners, the Broome Historical Society Museum, Water Corporation and other parties.
Broome Shire President, Ron Johnston, said that with the Chinatown Revitalisation Project already underway, developing Town Beach was part of Council's vision to link the two areas with a Jetty to Jetty Coastal Walk.
"Town Beach is a significant location for recreation, culture and heritage in Broome and these improvements will increase its appeal for locals and visitors," Cr Johnston said.
"The Staircase to the Moon draws thousands of visitors each year, the water park is hugely popular, night markets are drawing great crowds, and in addition we have the heritage and history of Indigenous culture, the Pioneer Cemetery, old jetty and Catalina flying boat wrecks.
"The Town Beach Precinct Master Plan will build on that support and enhance the experiences at Town Beach for our community and for visitors to our town.
"This is an exciting project and we are grateful to Lotterywest for its support for the Shire of Broome's vision."
More information available http://www.broome.wa.gov.au/Building-Development/Major-Projects/Town-Beach-Precinct-Master-Plan