You may have heard that last year Facebook was testing a dual newsfeed, one that was speculated to entirely separate Business Page content from that of your friends and family. Now, a decision affecting all publishers has been announced and we asking you to ensure you don't miss our regular tips for property in Broome by choosing 'see first'.

In facebook select our page (https://www.facebook.com/firstnationalrealestatebroome), hover over like/ following at the top and select 'see first' as pictured.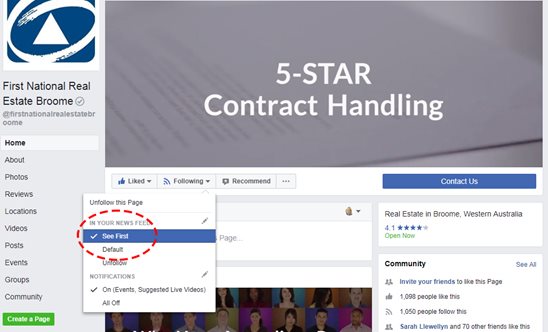 If you use facebook for your business they have stated that in the coming weeks it will be making changes to the algorithm that controls the quantity of business page content that reaches consumers. Its goal is to de-clutter the newsfeeds of Facebook customers and prioritise the posts of friends and family.
Why is Facebook making changes?
Facebook wants to keep its customers engaged with the content that creates 'positive sentiment'
Facebook is appeasing the US Government by showing that it is acting on fake news, click bait and content that doesn't uplift consumers
Smartphones offer a limited amount of space for content viewing and with more than 60% of users accessing the platform by smartphone, some content has to go
Facebook is gearing up to become a major digital TV destination so it can tap billions of dollars of TV ad revenue (and to gain more exclusive rights i.e. The Golden Globes Red Carpet Party)
Facebook says it will push content to the top that sparks conversations and 'meaningful interactions' between people - that means back-and-forth conversations.
Can people still see your posts at the top of their News Feed?
Yes, but only if they select 'See First' in their News Feed preferences.

We love to keep you up to date with what's happneing so please select 'see first' for our First National Broome page (example pictured above).