As 2018 kicks off with a great start to local Real Estate activity in Broome we have many vendors and landlords asking where they should be spending their marketing budget?

Being in Broome we are unique when compared to capital cities and other area's of the east coast particularly when we consider newspaper advertising. There is a perception that if you aren't advertising in the local newspaper something might be wrong with your Agency however this year for the first time we finally see this changing. Previously it was expected for local Agents to commit to a double page spread, which then reduced to a single page and more recently a lot are now reducing to half a page. Why?

Not as many people read the newspaper these days and even less do to find property. Considering newspaper advertising needs to be submitted a week before it's printed and potential buyers and tenants want the latest up to date information and property listings why wouldn't they prefer online?

Certainly if you are just considering the possibility of a new home or are visiting Broome and decide to make your stop more permanent you probably still heavily value the property section of the local newspaper. This is why it's important for Agents to keep a general prescence in the weekly newspaper but to encourage potential clients to visit their website online or call into the office. Just think if you are trying to sell or rent your property you want to be talking to the clients who are ready and willing to take action NOW.

Along with Real Estate portals which we utilist to market properties we are seeing a growing trend in social media advertising campaigns. They are immediate, targeted and AFFORDABLE!

Yesterday we posted on instagram a sneak peak for a new listing in the morning that would go live that afternoon.... within a few hours we had a response from a potential buyer moving to Broome in four weeks and were able to make direct contact to help with their real estate requirements. That was within hours and at an extremely minimal cost!!! Here is a copy of the post for your information: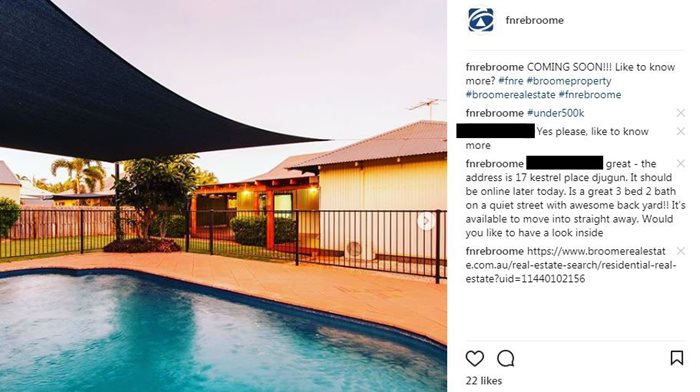 Facebook is another area our Marketing Department has been getting great results for our properties. Here is an example of an advertisement we set this week targeted to local Broome people within certain criterias that match the target market of this property. So far for a cost of $34.49 this owner has had exposure to 1,777 people with 80 people clicking through to view more information on the property.

MARKETING ASSISTANCE
If you're curious to know how you can make digital marketing work for your propety speak with our Marketing Department by clicking here.

MARKET APPRAISAL
Alternatively we can arrange an appraisal on your behalf to help give an idea on how it's performing in the current market - For Sale or For Lease click here.