The latest Herron Todd White review (April 2018 edition) is now available (view full pdf here). It's a great resource to see what else is happening around the country in the market particularly the property clock giving you a snapshot of where locations are estimated in the property cycle. Unfortunately Broome doesn't mention on the property clock but we'd love to know where you think we sit on this clock (leave your comments below to let us know your thoughts.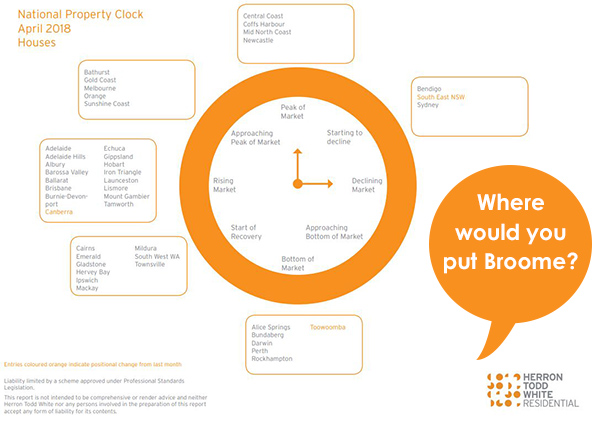 Herron Todd White reports as Western Australia's economy is predominantly influenced by the performance of the mining industry, we have seen some extreme fluctuations over the past few years. The post-peak period is often compared to the boom time, which is bound to disappoint in every measure. By disregarding significant outliers, keeping in mind the countercyclical nature of the local market in comparison to national trends and instead of looking at the longer term, Perth is not doing too badly.

In fact, many measures have improved. Like most marketplaces, Western Australia's population trend has a significant impact on the overall performance of the property market. The state's net migration can be significantly affected by the mining industry, as the scale of some projects results in a significant demand for skilled labour in relatively short periods of time. We are currently sitting at an unemployment figure of 5.7% which reflects a 0.7% decrease over the past 12 months and is now only slightly above the national unemployment rate of 5.5%. Over a ten year period, Western Australia's unemployment rate averages a quite reasonable 4.8%. On a similar note, the Australian Bureau of Statistics reported employment growth of 1.9% in Western Australia last year. The state's net migration is increasing as a result of uplift in employment opportunities, with those relocating doing so with employment already in hand.

This is also likely to be having a positive effect on the rental market. The Real Estate Institute of Western Australia recorded stable rental prices, a declining number of listings and a vacancy rate at 5.3% - the lowest rate in two years. Recent improvements in commodity prices and economic state measures have boosted confidence levels among business owners and investors, resulting in long-awaited employment growth. Contractors to the mining industry, who form a large part of the state's employment pool, have responded according to the mining sector's performance. The Reserve Bank reported investment growth in the mining sector over the past year, as projects developed during the mining boom either required replenishment or simply a far larger scale of ongoing maintenance programs.

Western Australia's rich lithium supply is partly responsible for the rise in investment. The increased international demand for electric cars using lithium batteries is increasing the positive outlook for many new mining developments. The world's largest lithium mine happens to be located in Western Australia, along with numerous other projects which are yet to be developed. Despite the mining industry's strong influence on state performance, mining is only the fifth largest employer in Western Australia.

In summary, the overall residential performance is heavily influenced by the performance of the mining industry, amongst many other sectors. Increased hiring has resulted in a return to positive net migration in recent times. The predominant dependence on the one industry is something the state is trying to move away from by diversifying economic reliance into other industries. Health care, construction, retail and education are the industries responsible for the majority of Western Australia's employment. Several large developments within these industries are currently being built, pushing the sectors for further improvement.

Attractive lending rates have a huge impact on today's activity, especially in prestige suburbs. It is mainly upgraders taking advantage of the opportunity however we have seen some increase in investment activity as well. We are currently seeing a patchy performance as each suburb has an individual response or sensitivity to changes in economic factors. Some suburbs are booming whilst others are declining. Overall, the market is tracking in the right direction and we have confidence in the short-term performance of the majority of Perth's inner and secondary suburbs.

If you'd like to know what's happening in the Broome market, we create a quarterly market update which you can subscribe to here.