While many investors spend a lot of time and effort carefully researching property to find a great investment, some ignore the role that a professional property manager can play in preserving the capital value and maximising its income. Too many landlords choose their property manager on fees alone but property management is much more than just collecting the rent.

Recently our Agency had two properties that weren't even on the market and we successfully leased BEFORE going to market. We knew the owners would be looking to rent their property relatively soon and we had corporate tenants waiting for properties just like theirs. We showed the potential tenants floor plans to see if the property was what they were looking for and contacted the owner to arrange an inspection. No vacancy period and no advertising costs and leased at the expected rental return.

We also had another property that was leased within 14 days of going to market. With just under 100 properties currently available for lease in the Broome region it's important you choose an Agent who goes the extra mile to find your a great tenant in the quickest possible time.

To manage your property to minimise vacancies and maximise your returns requires:
Industry specific skills and knowledge such as knowing how to market your property effectively to get it exposed to the maximum number of tenants.

Setting the rent at an appropriate market level to ensure quick leasing, the choice of a variety of good tenants and at the same time maximise the returns in these days of rising rents.

Checking potential tenant's references to ensure you have a reliable tenant who is unlikely to cause troubles.

Organisation of lease agreement to protect your interests as a landlord.

Lodging the bond with the relevant authority.

Handling repairs and maintenance with skilled, licensed tradespeople.

Paying insurances and outgoings on behalf of the landlords who will work at fair prices.

Keeping up to date with complex ever changing tenancy legislation.
Because your relationship with a property manager will be a long and ongoing one we suggest doing your homework before making a selection. We have a long list of testimonials you can view here BUT what we would like to show you is how tenants feel renting with our Agency: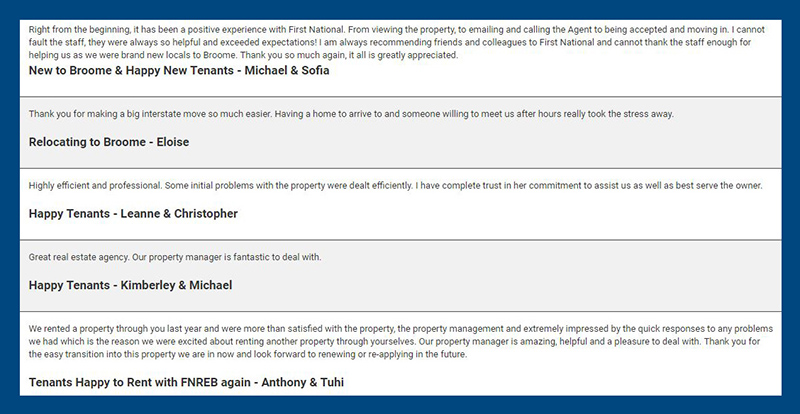 We consistently maximise results for our owners in the leasing and management of their investments in the Broome region.

Our Agency is large enough to offer unparalleled back up support and marketing services yet controlled enough for high attention to detail and personal day-to-day attention. After all we are still a family business and have been managing properties locally for over 30 years.

We would love the opportunity to demonstrate how we can help with your investment property - please click here to email our office Manager, Charmaine Snow.