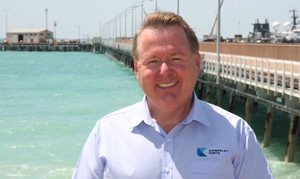 According to the West Australian a developer is proposing to build a $100 million floating wharf at the Port of Broome for cruise ships and oil and gas vessels. Kimberley Marine Support Base has struck a deal with the Kimberley Port Authority to develop a business case for the project.
The developers involved were responsible for the Onslow Marine Support Base which opened last year. A floating wharf is considered as a potential solution for passengers of cruise ships to reach Broome during extreme local tides.
The installation of heavy lifting equipment would expand the capacity of the port to handle all oil and gas equipment. The Andrew Natta-led KMSB has predicted the project would create hundreds of construction jobs.
KPA chief executive Kevin Schellack said the developer would have until early 2019 to build the business case for review by the authority and the State Government. If the project was considered viable, KPA would enter into a lease with KMSB and seek approvals to develop the land and sea bed.
"KPA is very aware of the billions of dollars of investment happening off the Kimberley coast by oil and gas operators," Mr Schellack said.
"We are encouraged by this opportunity to capture more of the on-shore benefits from this activity while also providing greater opportunities for cruise ship access into Broome."

Original West Australian Article available here