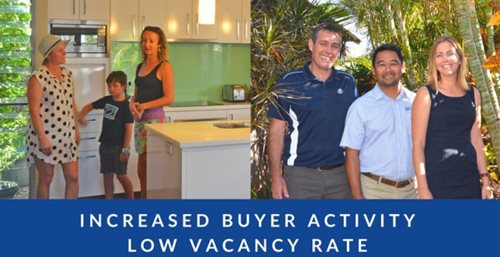 Already in the thick of the tourism season, now is a great time to reflect on how the market is moving.

After a prolonged recovery in the WA housing market, green shoots are starting to appear and confidence in the local market is growing. WA is now tipped to lead the way in the property price turnaround with NAB predicting the WA market to be the best in the country over the next two years (source Property Council of Australia WA).
Currently within our own Sales Team we have had:
8 Properties UNDER OFFER, as well as
7 Properties SOLD pending Settlement.
There are currently 306 properties for sale in the Broome region but what is different this year compared to the last few is our vacancy rate. Traditionally our vacancy rate has been up to 4 and 5% but has been holding steady at 1 to 2% in the last few months.
Home Open attendees have increased as well as direct call or emails for general buyer enquiry. We have had an increase in people asking for advice on what's available within their budget and what would suits their needs. There has also been continued enquiry from local buyers who are considering buying their own home instead of renting. The majority of our enquiry has been owner occupiers and first home buyers rather than investors however with our vacancy rate stabilising we expect this will change shortly.
The availability of land in the last five years in Broome has meant there has been no pressure put on sales and rental markets. Now that availability is starting to disappear we can see Broome's market correcting itself. Along with positive announcements in the mining and resources sector as well as tourism we are feeling very confident with Broome's economic market. This should have a positive flow on effect to property prices and with announcements including major mining projects and significant spending on community infrastructure we should see more people relocate to Broome.
This is also coupled with an improving tourism outlook with new competitive airfares and the potential for international flights on and ongoing basis.
Now is a great time to reconsider your strategy.
Click here to register your interest in finding out where you sit in the market or when is a good time to enter.