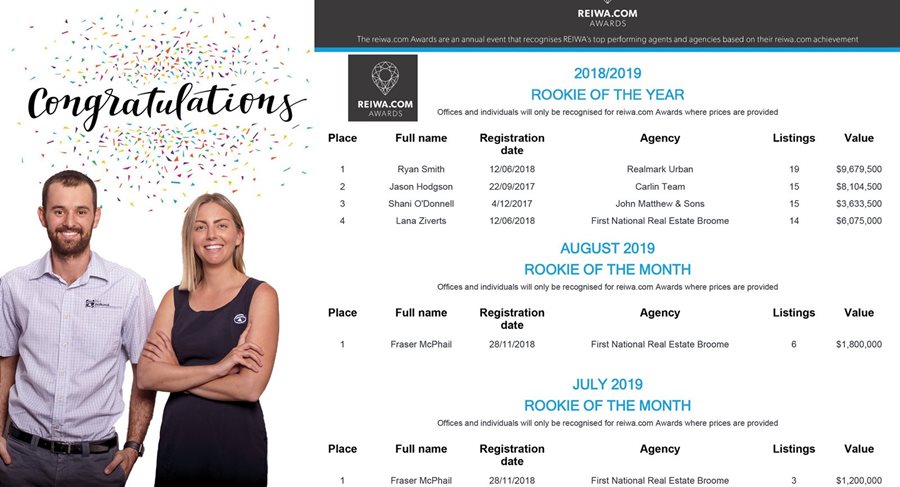 Some exciting accolades in our office the last couple of months. We knew our sales team were kicking goals but being recognised by the Real Estate Institute of Western Australia just shows the hard work both are putting in. Congratulations!
---
The first months in the real estate business are sure to be a challenge; getting your name out, finding clients, and securing your first listings are no small tasks. That is why we are VERY proud of Lana and Fraser's achievements.

Lana was awarded 4th Place for Rookie of the Year by REIWA (it was a very close race to equal 2nd place). Lana's previous finance experience and real estate administration experience is invaluable to homebuyers and sellers. Lana's valuable insights shows that people appreciate enthusiasm and dealing with an agent they feel comfortable with.

AND Fraser who has an extensive professional background in licensed valuations and brings those many years of valuation experience now to real estate. The proof is in the pudding as Fraser has been awarded by REIWA as top Rookie for July and also for August. Fraser's understanding of property values and real estate cycles provide invaluable information in achieving successful sales results. As Fraser says when we're outside of our area of expertise, we have a leaner's advantage that helps us think outside the box. Coupled with my valuation experience means I have a huge advantage over many other real estate agents.

If you'd like to take advantage of the activity in our marketplace click here to arrange an up to date opinion on the value of your property.