A private Western Australian company has gained state government approval to develop a floating wharf and onshore terminal at the port of Broome, targeting oil and gas services and cruise ships as its main customers.

The $110 million project will be constructed and funded by Kimberley Marine Support Base Pty Ltd, which is led by directors Andrew Natta and Mike Hollett.

KMSB is aiming to have the new facility operational in early 2022 to coincide with development of the Browse gas project off the Kimberley coast.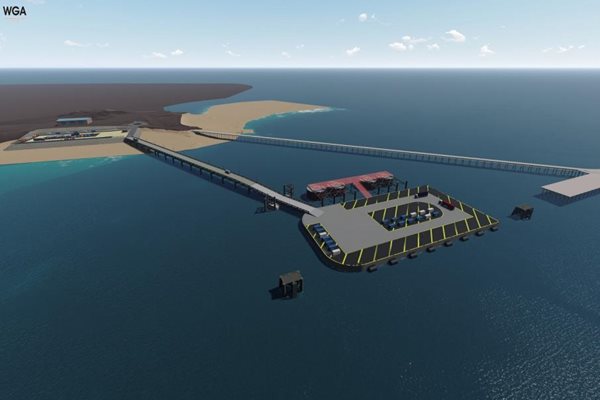 Mr Natta told Business News the new facility, to be known as the Kimberley Marine Support Base, would be able to service a wide range of industries, including farming and aquaculture. The floating wharf would suit cruise ships, which face operational issues at Broome because of the nine-metre tides in the area. The biggest opportunity is likely to come from servicing oil and gas projects off the Kimberley coast.

Mr Natta brings relevant experience to his role at KMSB, including as the developer behind the Onslow Marine Support Base. Following today's approval, KMSB and the Kimberley Ports Authority will enter a long-term commercial lease for the facility, with Kimberley Ports to provide stevedoring services during construction and the first five years of operation.

KMSB is still required to complete environmental approvals, project and financial agreements and a final design and commissioning plan. Mr Natta said he anticipated traditional funding for the project, with a mix of debt and equity.

He was non-committal when asked if KMSB would seek funding from the federal government's Northern Australia Infrastructure Facility, which has become increasingly active as a lender to commercial ventures.

The NAIF provided $16.8 million to help fund a dredging program at the Onslow Marine Support Base, which is budgeted to cost a total of $120 million over three stages. Mr Natta said the 60-week dredging program at Onslow had recently been completed.

Ports Minister Alannah MacTiernan said the Broome project was a huge opportunity for regional jobs.
"KMSB estimates that construction of the facility will create more than 250 jobs, while ongoing operations could provide more than 500 permanent jobs in Broome and more than 1,500 jobs state-wide," Ms MacTiernan said in a statement.

"This paves the way for Broome to become the service and logistics hub for the growing oil and gas sector off the north-west coast and for export opportunities for the emerging agricultural and resources sector projects in the hinterland - providing long-term jobs for the region.

Ms MacTiernan said the floating wharf would be able to deal with the variable tides in the area, while the opportunity for increased crane lifting capacity will add to the current capacity at the port.

Today's announcement comes 15 months after KMSB and Kimberley Ports Authority signed a non-binding agreement to develop a business case for the marine base.
Source - Business News article available here.